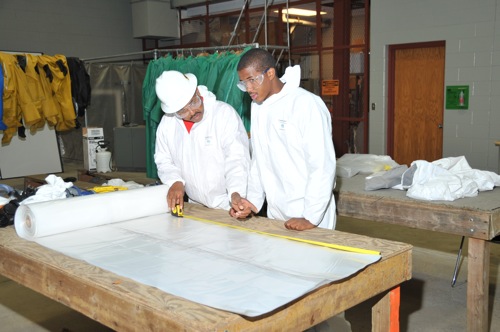 Through the Laborers' District Council (LDC) Education & Training Center's Apprenticeship Training Program, participants will learn skills through a combination of formal classroom instruction and on-the-job training.

Courses emphasize the principles of construction, equipment knowledge and operation, materials, site preparation, maintenance and safety. A minimum of 150 hours of classroom training and 300 hours of on-the-job training must be completed within a calendar year.

To enroll, an applicant must meet the following minimum requirements:
Be at least 18 years of age
Physically able to perform the work of the trade
Have dependable transportation
Be drug free and pass a drug screening
The Laborers' District Council Apprenticeship Program is currently accepting applications at the following locations:
Please check this page frequently for updates about the Apprenticeship Program and where we will be accepting applications. 
The Laborers' District Council Joint Apprentice Committee will take affirmative action to provide equal opportunity in apprenticeship and will operate the program as required under Title 29 of the Code of Federal Regulations. The recruitment, selection, employment, and training of apprentices during their apprenticeship, shall be without discrimination because of age, race, color, religion, national origin, sexual orientation, disability, or genetic information.
Contact Us
Hours of Operation
7:00 AM - 3:30 PM
Monday-Friday
Exton, PA Campus
500 E. Lincoln Highway
Exton, Pa. 19341
Philadelphia, PA Campus
1333 North Broad Street
Philadelphia, Pa 19123
P: 610.524.0404
F: 610.524.6411

Devan N. Roberts
Apprenticeship Coordinator
E: droberts@myldctraining.com